Let's say that you're planning to buy a flat in Wroclaw for PLN 300k and you want to take a mortgage. Unfortunately, not all expenditures associated with buying an apartment can be funded by a mortgage. You will certainly have to use your savings.
This post will give you an idea of how much cash you will need to cover all the expenses. I sum up 6 types of costs of buying an apartment – most of them you cannot avoid.
1. Down payment – approximately PLN 30,000
This will no doubt be the highest amount on your list. Today, the maximum LTV (Loan-to-Value) offered by polish banks is 90%. It means that you will have to fund 10% of the value of your purchase from your savings.
If your mortgage is to fund only the purchase price of the flat, you will have to put up PLN 30k.
You may want to increase the mortgage by, say, PLN 30k to finance finishing work. The bank will take it into account in their calculation, and will take PLN 330k as the value of the flat, grant you PLN 297k as mortgage loan, and you will have to put PLN 33k as down payment.
2. Arrangement fee – approximately PLN 5,400
If the price of your flat is PLN 300k, your down payment will be PLN 30k, so your mortgage will be PLN 270k. The bank calculates its arrangement fee on the amount of the mortgage.
I have adopted 2% as an example, because this is the fee frequently paid by borrowers. The arrangement fee charged by Polish banks may be in the range from 0% to 5% (don't worry, 5% is extreme, most often it is 2% or less).
Sometimes, instead of the arrangement fee the bank charges an insurance premium but it does make any difference to you because it is still the cash that you need to put up at the time of originating the mortgage.
Most banks will let you add the arrangement fee to the mortgage but if your mortgage is for the maximum possible amount (90% LTV), the bank will not agree to fund it.
You may be able to avoid paying the arrangement fee because mortgages with 0% arrangement fee can currently be found on the Polish market (e.g. offer by Millennium, ING). However, they will not always be available to you or may be simply not suited to your individual needs.
3. Tax on civil law transactions (PCC) – PLN 6,000
The tax is collected by the notary during signing the notarial deed (only for secondary-market transactions) and is charged as 2% of the purchase price.
4. Notarial fee – approximately PLN 2,500
In accordance with the Polish law, each property purchase transaction needs to be made with the participation of a notary. For their services notaries charge the so-called notarial fee.
PLN 2,500 is the maximum fee for a PLN 300k transaction. You may find better offer – just call several notary's offices and ask them about notary fee. Like the PCC, the fee will be collected at the time of signing the notarial deed.
5. Court fees – approximately PLN 400
They are collected by the notary at the time of signing the notarial deed.
Fee for registering a new owner in a mortgage register:
Fee for registration of a mortgage:
6. Other costs associated with granting a mortgage loan – PLN 800
fee for property valuation – it may be in the range from PLN 150 – PLN 800 depending on a bank and property type
property insurance – PLN 300 / year
All right, let's try to sum up all of this expenditures: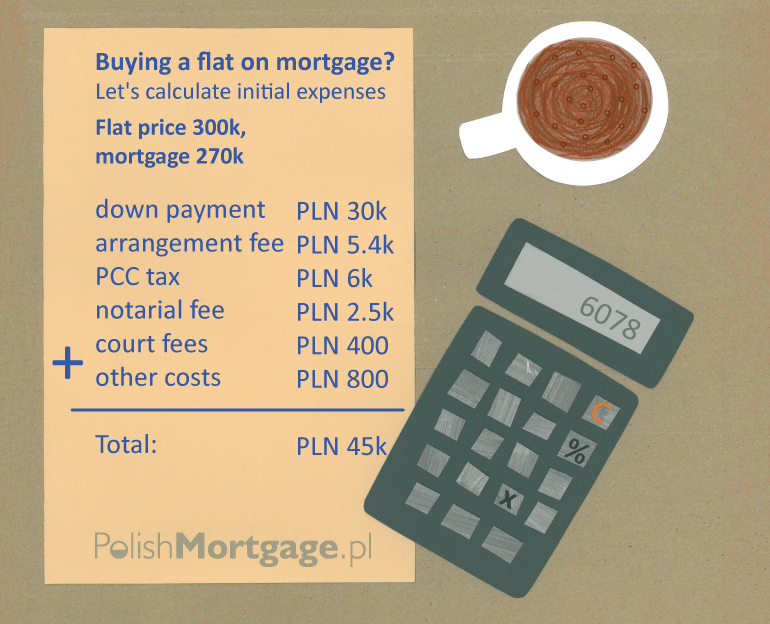 Total: PLN 45,1k
It don't have to be exactly this amount. You can get mortgage without arrangement fee (0%), or notarial fee might be significantly lower. You also wont pay PCC tax (2%) if you buy apartment from deweloper. I just wanted to give you brief overview and I hope I did.
If you want to get more details about getting a mortgage in Poland go check other posts on this blog, for example: Buing a flat on mortgage in 5 steps or meet a Polish mortgage advisor – here I described how to deal with them.
If you have any questions in this topic, I'd be grateful, If you leave them in the comment or just email me at: kamil@polishmortgage.pl